CRYPTO PAPAYAS ARE A COLLECTION OF 6,969 UNIQUELY ARGIST DESIGNED NFTS RANDOMLY GENERATED AND STORED ON THE SOLANA BLOCKCHAIN. THE DIGITAL COLLECTION IS SECURELY STORED IN YOUR SOLANA WALLET AS A NFT ASSET THAT YOU CAN SELL OR TRADE
WWW.CRYPTOPAPAYAS.IO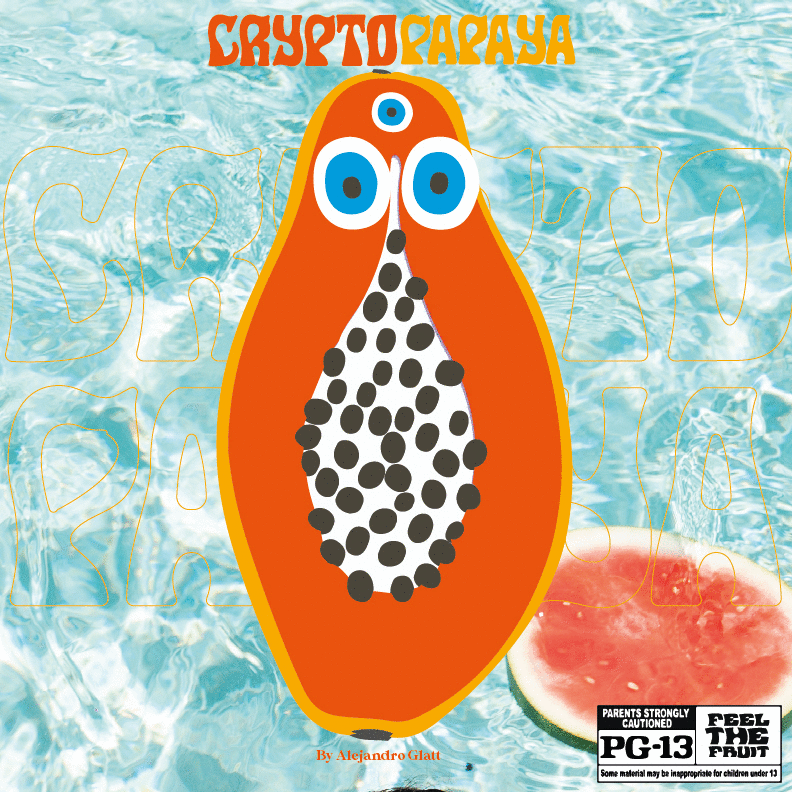 Crypto Papayas a New Social NFT project


Crypto Papayas is a new Social NFT project designed by Alejandro Glatt. Alejandro is a Tulum based multidisciplinary artist who is passionate about the aesthetic and energetic interactions between fruits, colors and humans. He has partnered with the teams behind UpCycle Finance and DeFi Speculate to use NFT blockchain technology to cultivate environmental stability and ocean protection. The team will mint 6969 NFTs and launch on the solana blockchain and metaplex platform on October 19, 2021. The proceeds will go to preserving our beaches and saving our oceans. A portion of the NFTs will be donated to UpCycle Finance to help raise funds for Ocean initiatives and establish Feel The Fruit Ngo.

Alejandro has always expressed himself creatively with a visual arts and permaculture background specializing in fruit. He finds and shares the essence of the fruit, represented through an artistic and sensual lens, through altars, ceremonies and big scale art installations. Alejandro has taken that experience to create his first NFT collection with the support of Defi Speculate and UpCycle Finance to help save our oceans and to protect his adopted home of Tulum. The group is working with Tulum Circula and Eukariota, two local NGOs that are trying to create a more sustainable Tulum with zero waste initiatives.

The entire team has a firm belief that everyone should be socially aware of our impact on the planet and specifically on oceans. The partnership was created upon shared interests and bloomed from discussing the possibilities of cryptocurrency and its synergy with NFTs, art, and environmental consciousness. That's how they came to the decision to launch Crypto Papayas to support their beliefs. As Chris Needham from UpCycle Finance puts it, "Once we understood that we shared a similar vision of assuming ecological responsibility and impacting the world in a positive way, a collaboration in the NFT market just made sense. We are very excited to collaborate and to take the opportunity to participate in a dynamic market where we can make big environmental impacts."

Marine plastic has become a large problem for many cultures and beach areas around the world. Tulum and other waterfront locations have become polluted with plastics. At least 8 million tons of plastic end up in our oceans every year. Plastic has been detected on shorelines of all the continents, with more plastic materials found near popular tourist destinations and densely populated areas. Alejandro has seen this type of pollution first hand in Tulum and how it has affected the people who live there. The main sources of marine plastic are land-based, from urban and storm runoff, sewer overflows, beach visitors, inadequate waste disposal and management, industrial activities, construction and illegal dumping.

The Crypto Papayas will be built with Solana and powered by Metaplex. Solana is the fastest blockchain in the world and the fastest growing ecosystem in crypto, with over 400 projects spanning DeFi, NFTs, Web3 and more. Metaplex is a platform for ultra-fast NFTs with insanely low minting fees, only possible on Solana.

Crypto Papayas is the perfect vehicle for people to help protect our oceans and the environment. Alejandro, UpCycle, and DeFi Speculate will use the value it creates for more positive initiatives in the future and invest directly into making the world a better place one ocean at a time.

You can follow Alejandro Glatt on Instagram @Alejandroglatt, UpCycle – Upcycle.finance, and DeFi Speculate's Instagram @DefiSpeculate.







PRESS AND MEDIA:

https://gritdaily.com/alejandro-glatt-the-artist-and-entrepreneur-bringing-art-technology-and-spirituality-together-to-support-female-artists/

www.marketwatch.com/press-release/crypto-papayas-a-new-social-nft-project-2021-10-11

https://medium.com/@schimmer_42836/how-to-mint-crypto-papayas-f85f9f2bede1